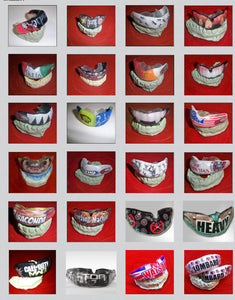 Custom fit sport mouthguards by Tuff Teeth are durable yet comfortable while not inhibiting breathing, speaking and drinking.
Every Tuff Teeth custom mouthguard is as unique as the athlete and the sport they play. A custom fit mouthguard is ideal for use in a variety of sports including basketball, hockey, football, soccer, lacrosse, martial arts, rugby and extreme sports.
Process once payment is received: 

1 We will send you a custom impression kit with two sets of trays and putty (please make and send back two completed impressions)

2 Mail it back to us.

3 We will make your custom mouthguard and send it back with complete fitting instructions.